American Whiskey
Pikesville Maryland Rye: The End of an Era
---
September 27, 2004
Pikesville --
Majestic Distilling Co.
Lansdowne, Maryland

Maryland's Last Rye Whiskey
SOMETIME IN 1972 a wooden bung was pounded home, and the last barrel of Pikesville Maryland rye whiskey was rolled into the warehouse at Majestic's distillery in Lansdowne.

And with that event, the great Maryland rye whiskey industry, which had once been a major player in the American whiskey business, came to a final close.
Well, sort of... Straight rye whiskey isn't "done yet" until it's aged in a new charred oak barrel for upwards of four years, so it would be the mid-to-late seventies at the earliest before it would be bottled. Some would continue to age well into the early '80s. The company that made it didn't close; they just stopped distilling new whiskey. Pikesville would continue to be bottled there for several years. But the whiskey would be from other distilleries. And Majestic was the last one in Maryland.
Then again, the saga of American whiskey wouldn't be anywhere near so fascinating if the stories were short, direct, and not intertangled with one another. And Pikesville, as the last brand to proudly wear the words "Maryland Rye" on its label, is certainly not about to be an exception to that rule.
For one thing, there's the little fact that Pikesville still exists. In fact, it may well be the most popular rye whiskey in Maryland today, easily outselling its Kentucky cousins. The complication is simply that today's Pikesville -- Pikesville Supreme Straight Rye Whiskey (as opposed to Pikesville Maryland Straight Rye Whiskey) -- really is its own Kentucky cousin.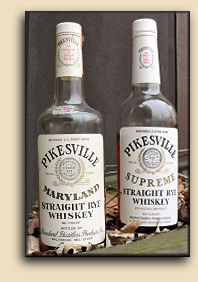 Many of the photos on this page are links to larger
versions and more complete captions. Try clicking on
a picture to see if there's more to be found!
The Baltimore company that produced Pikesville when it was a Maryland rye was Standard Distillers Products, Inc., which appears to have been related to the Corporation Trust Corporation of Baltimore. Both companies shared an address at 300 East Lombard Street, and CTC were, until very recently, the owners of the Majestic Distillery where Pikesville was made and bottled for most of its post-prohibition career as a Maryland rye whiskey.
A career which met a formidable obstacle in 1972, when Majestic ceased its distilling operations, and a final blow in 1982 with the sale of the Pikesville brand to Heaven Hill of Bardstown, Kentucky. So it seems that Maryland's most popular rye whiskey is now being made and bottled (as it has been for nearly a quarter-century now!) in Kentucky.
By Standard Distillers Products, Inc.
Only, it's not quite the same Standard Distillers Products. When Heaven Hill Distilleries of Bardstown, Kentucky purchased the Pikesville brand, they also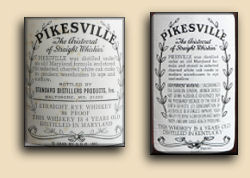 registered "Standard Distillers Products" as an assumed name corporation in Kentucky in May of 1982. Pikesville thus joins a very long list of distinguished brands which Heaven Hill has managed to keep alive long after their brethren have faded along with the old-timers' memories.
But is the Kentucky Standard Distillers version of this rye whiskey made the same way that the Baltimore version was? Gee, you had to ask, didn't you? Well, the fact is that there are quite a few similarities in the way Pikesville Supreme comes to market and how the old Pikesville Maryland Rye got there.
At least that's true of the Pikesville Maryland Rye that appeared after prohibition. The really-truly original Pikesville was a completely different whiskey from either. In the 1890s, the town of Scott's Level, Maryland was home to a distillery operated by L. Winand & Bro. where they produced a fine whiskey which they called Pikesville, after the adjacent community by that name.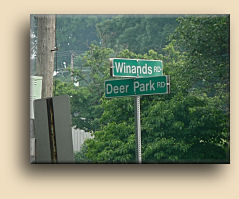 No one seems to know why they didn't name their whiskey Scott's Level Pure Rye. Perhaps they felt it sounded too much like Scotch. Anyway, national prohibition put an end to their product, with the only remnants of the Winands' contributions to Pikesville's former prosperity being that the elementary school there bears the family's name, as does the Winand Tae Kwon Do parlor.
In 1936, a couple years after the 18th amendment was repealed, a gentleman by the name of Andrew W. Merle acquired the Pikesville brand (as well as the original recipe, so he claimed) and set about reestablishing it as Pikesville Maryland Rye. Merle was not a distiller, nor did he own a distillery. But he may have had family ties to either the Winands, the town of Pikesville, or both. If nothing else, he owned a known brand of whiskey, and a desire to market a product that had once been important in the region. As we see it, that would place Merle in the same category as modern-day American whiskey entrepreneurs such as Tom Bulleit (Bulleit Frontier Bourbon), Peter Pogue (Old Pogue Bourbon), Kenny May (Conecuh Ridge Alabama Whiskey), Karen Critchfield (Old Farm Rye), Trey Zoeller (Jefferson Reserve; Sam Houston), Jim Razzino (McKendrick; Thedford Reserve), and so many others we've come to know (or at least to know of) over the years.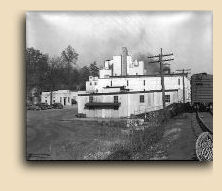 Andy Merle sought a distiller who could produce Maryland rye whiskey for him and bottle it as Pikesville, and he found (or formed) Standard Distillers Products. SDP either was, or was associated with, The Corporation Trust Corporation, sharing the same offices at 300 East Lombard Street in Baltimore. CTC also owned a distillery, the Monumental Distillery in Lansdowne (or Halethorpe, or Arbutus, same location, it just depends on who you ask), which had sufficient facilities to distill and bottle Pikesville Maryland Rye. And in this way Merle was able to get his product to market.
And how does Majestic Distilling Company fit into all this? Well, we're not sure of the exact circumstances, and perhaps we don't even want to know, but sometime in the autumn of 1942 an accident occurred at the Monumental distillery and within a very short time the Monumental Distillery Company no longer existed. The following group of photographs are from the Hughes photography studio collection of the Maryland Historical Society.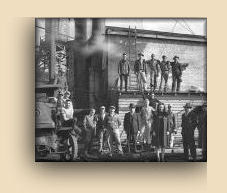 The Hughes studios specialized in event-recording photography, such as awards, weddings, school graduation ceremonies, and business advertising. And also insurance documentation, such as damage evidence. The photos here are part of a series which were all shot on November 16, 1942 to document an accident at the Monumental Distillery in Lansdowne. Some damage can clearly be seen, although we don't know the exact nature of the accident. There is a large piece of a metal smokestack lying across a truck it had struck, and an area that appears to have been the site of a small explosion. All in all, it doesn't seem to have been a particularly devastating incident, but almost immediately after these photos were taken, operations at the facility were assumed by a new corporation and it was re-named the Majestic Distillery.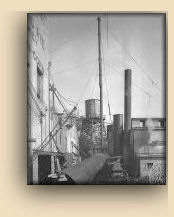 The Majestic Distilling Company's own version of its corporate history says it was founded in 1943 by Zellic Cohen, as a distillery, rectification and bottling plant. Public records of the Maryland Department of Assessments and Taxation show the new corporation as having indeed been registered on January 5, 1943.
Interestingly, the records show the new "resident agent" as The Corporation Trust, Inc., of 300 Lombard Street, Baltimore. Thus it appears that the change of ownership may have been more of a legal formality than a physical change that would affect day-to-day operations. Which leads us to wonder what role Zellic Cohen played and whether that role really did begin in 1943 or had merely continued over from the plant's former identity as Monumental Distillers.
---
This is Monumental Distillery as it appeared on November 16, 1942
and Majestic Distillers as it appeared on September 27, 2004,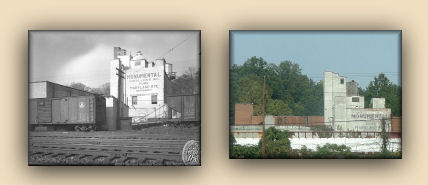 This is another pair of "then and now" photographs...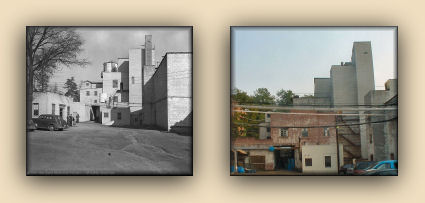 ---
Like the Pikesville brand, the Monumental distillery in Lansdowne (or wherever) was itself a post-repeal reincarnation of an earlier one. That distillery was located on O'Donnell street in Baltimore, and had been operated before prohibition by Charles Ross & Company .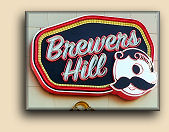 Ross' Monumental was one of the earliest important Baltimore distilleries; the name was first registered in 1860. That site later went on to become the National Brewing Company, makers of a hometown favorite beer called "Natty Boh".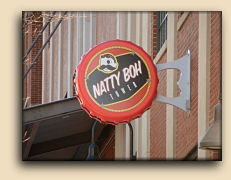 We visited there in 2006 and found it in the process of being extensively rebuilt as Brewers' Hill, a sort of east-side version of The Gallery/Harborplace complex.
In 1950, Zellic Cohen's oldest son, Victor, joined in the management of Majestic. And within a few years Sidney and Harold Cohen joined the family-run company as well. According to its building sign, Monumental had distilled bourbon and corn whiskey in addition to rye and it's likely that Majestic did the same.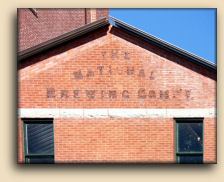 They continued to produce Monumental brands such as Classic Club bourbon as well as their own brands, like Old Setter.
They still market those brands, although the focus of their operation has moved primarily to the rectification and bottling aspects of the business, and they haven't distilled whiskey since 1972. It was for that reason that other sources for Pikesville's rye needed to be found. Although they no longer actually distilled the whiskey, as far as we can tell, Majestic continued to bottle Pikesville right up to the day the keys were handed over to Heaven Hill, using whatever whiskey was delivered to them for that purpose.
Okay, so let's see now... if Majestic stops making Pikesville Maryland Rye in 1972, and Heaven Hill starts making Pikesville Supreme Rye a decade later, then what was going on between '73 and '82?
Well, how about Pikesville Maryland-style Rye? At least one source we found states that the Merles contracted with a Pennsylvania distillery for awhile (hence the need to alter the state designation on the label). There were still a few Pennsylvania distilleries left in the early seventies, and one that quickly comes to mind is Publicker (aka Continental Distillers) of Philadelphia. Especially since they were the original producer of the other brand of rye whiskey that Heaven Hill now makes, Rittenhouse. It would also explain why that arrangement didn't last, since Publicker itself closed in the late '70s. Another interesting speculation, considering that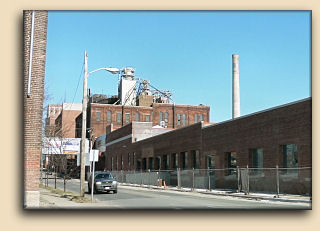 Pikesville had become something of a cult classic by virtue of being the last surviving Maryland brand, is that its whiskey might have been produced at what would soon become Pennsylvania's own equivalent, Michter's in Schaefferstown. The years would be right, as would the relationship between Michter's (Pennco) and Continental Distillers.
At any rate, by the late 1970s the Merles, now including Andrew Jr. who had joined his father in the business by this time, would need to find another source of straight rye whiskey. Kentucky was just about the only option they had left, and they bought some rye whiskey from Glenmore Distillers of Owensboro. Now, it's easy (and incorrect) to condescendingly write off as "bulk whiskey" purchases of barrel lots to be sent to a contract bottler and packaged under your own label.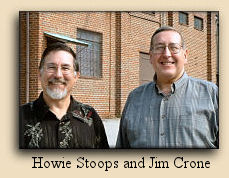 The truth is, however, that some of the finest rye (and bourbon) whiskey is bottled just that way -- and while there was still some left, the best of those bottlings also once contained Glenmore product.
In September of 2004, our friend Howie Stoops takes us to visit the plant and introduces us to Jim Crone, the manager. Jim has very graciously come in on a day when the site is not operating just to show us around and answer questions. And we sure do have a bunch of questions. Jim has been involved with the liquor business on both the operational and marketing sides for many, many years, and there's not much about the post-prohibition Maryland (or Kentucky) whiskey industry that he isn't very aware of.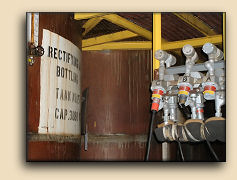 Jim explains (as well as one can, considering the twists and turns in its history) some of the relationships between Majestic and other distillers and bottlers, and he does so with refreshing humor as well as insight.
Majestic Distilling today is certainly not an old, abandoned giant, haunted by the ghosts of its former glories as so well describes some other sites we've visited. Far from it. As a contract bottler and rectifier, as well as an importer,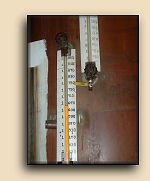 Majestic is a very dynamic little liquor marketing company.
For one example, and this is an aspect of the industry that relates closely to John's career, Majestic boasts that they were the first company in the liquor-manufacturing industry to have a fully computerized order processing and tracking system. Both Richardson-Vicks and Procter & Gamble were considered pioneers in that sort of technology, and it is in that capacity that John provides support for them. Majestic has also developed flexible packaging and bottling lines that permit more efficient and profitable use of facilities. Much of the work John is now supporting is largely focused on just such production-line research and development.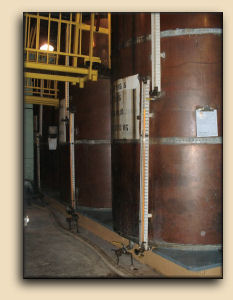 Of course, one has to admit, coming home from work and pouring a nice tall glass of Vicks cough syrup doesn't have quite the same allure as can be found at Majestic.
Another example of Majestic's impact is that they've introduced a completely new product line. Jim showed us an example of Redneck Riviera Alabama-Style Blended Whiskey. The name is a reference to both a geographical area and a particular attitude with which they hope the whiskey will become identified. Travel brochures tend to call the lovely beaches of Mississippi, Alabama, and the Florida panhandle, stretching out along the Gulf of Mexico's azure-green waters, the "Emerald Coast", but those who live and vacation there proudly use the term "Redneck Riviera". It's that attitude (similar to one associated with a Kentucky bourbon named Rebel Yell once marketed exclusively south of the Mason-Dixon line) that they wish to capture. Considering that blended American whiskey is traditionally offered only at bottom-of-the-line 80 proof (40%), the choice of 98.6 proof (49.3%) might go far (hopefully not too far) towards accomplishing that. The product is so new, Jim tells us, that it hasn't even been released yet, and already there are last-minute marketing-based rethinking about its image.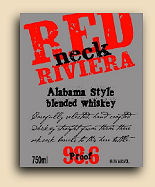 In order to avoid potentially offending customers in Florida and Mississippi, it's been decided that the label will need to be reworked so that the slogan will say "Southern Style" instead of "Alabama-Style". With all the technicalities involved in alcohol beverage labeling, such a change is no small matter. But years of working with world-class household and cosmetic product brand-development executives allows John to understand completely.
... And what of Pikesville Straight Maryland, uh, Maryland Style Rye? Well, costs were soaring, demand was abysmally low, and in 1982 Andrew, Jr. sold the brand to Heaven Hill where it has been distilled and bottled ever since.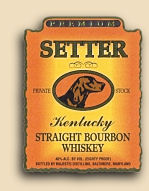 It's interesting to note that the bourbon which Majestic bottles under its own label is also distilled in Kentucky -- by Heaven Hill.
Remember that, before being "the distillery where whiskey once made in Pikesville is now made", this plant had already been "the distillery where whiskey once known as Monumental is now made". The original Monumental distillery was located at 11th and O'Donnell streets, where the new Brewery Hill is being built. It was operated by Charles Ross & Company. The "Monumental" brand name was first registered in 1860. By identifying itself with Baltimore (known as "The Monumental City"), Ross' product became the first known brand of Maryland rye to incorporate the location in it's name. Many others quickly followed: Melvale, Spring Garden, Carroll Springs, Roxbury, and of course, Pikesville. The terms "Maryland Pure Rye" and "Baltimore Pure Rye" came into use a decade later.
Curiously, after prohibition was repealed, the Corporation Trust Corporation (on East Lombard Street) purchased the Monumental brand and built this small distillery in Lansdowne. The brands distilled and bottled here included Monumental (maintaining the name of the "Baltimore" rye brand that began the whole Maryland Rye industry), and also Pikesville (named for another Baltimore-area location where its pre-prohibition version originated). In 1972, the Pikesville brand ceased production, bringing that same Maryland Rye industry to a close.
Oh, sure, the products weren't really the same as they once were
Nor were the companies that made them.
And neither brand was originally distilled in Lansdowne.
In fact, their original distilleries were diagonally opposite one another across the Baltimore area.
And when the Winand brothers fired up their Pikesville still for the first time, Charles Ross' Monumental brand had already been a hugely successful operation for over thirty years.
But national prohibition sure evened up that score real quick.
So now, with both brands being far closer to one another than either were to their own origins, they, and with them the entire Maryland Rye distilling industry, closed out their days in the same little distillery building in Lansdowne.
Or Arbutus.
Or Halethorpe.
Whatever