American Whiskey:
July 12, 1998 -- Bardstown & the Oscar Getz Museum
---
The Oscar Getz Museum of Whiskey History
Bardstown, Kentucky
This is the return to Bourbon country that we promised ourselves after our introduction in February. This time, however, we are going into it with some definite planning so as to get the most out of the time available. The past few days have been spent calculating an itinerary that will allow us to visit four distilleries in two widely separated areas, leaving only one of the publicly-accessible companies to visit at a later date.

The trip is divided into two separate sections, each of which will consist of visiting two contrasting distilleries located very close to one another, followed by a long drive with no fixed arrival time. That way, we can spend as long as we like exploring the distilleries without concern for when we will be arriving at our final destination.

Today we are driving 345 miles to Murfreesboro, Tennessee, from which we will begin tomorrow's touring. About halfway (at 160 miles) we stop in Bardstown, Kentucky. Even without it's connections to the bourbon industry, Bardstown (seat of Nelson County) is a fascinating and lovely center of Kentucky history, and well worth consideration as a vacation destination in its own right. Recognized as the "Bourbon Capital of the World" (there were once 22 operating distilleries in the Bardstown area, with distilling records dating back to 1776), this picturesque village of 7,300 absolutely must be experienced on any serious discovery trip concerning American whiskey. This is the second time we've visited Bardstown, and again we didn't spend as long as we would have liked.
We arrived in Bardstown around noon and just in time for lunch at the recently opened McKinney House restaurant. The restaurant, restored to capture a mid-19th century mood, occupies a lovely old home, built around 1840, with a fascinatingly romantic and mysterious history (see sidebar). We enjoyed a leisurely lunch, as we made up several stories to go with the history. We learned later that there are many parallels between the way that ownership of this home has passed back and forth and the way brands of American whiskey are traded back and forth among the existing distilleries. As we were eating our lunch, Linda took a drink of the ice water served and remarked, "If we had water like that at home, I'd drink a whole lot more water. It's really good!" I tasted it and agreed, and then it hit us like a brick... of course the water's really good – why do you suppose every bourbon distillery in America can be found in this little strip of Kentucky between Louisville and Lexington? They ought to bottle it up and sell it nationally as "Heaven Hill Springs" or something like that.


After lunch, we drove a short distance to the famous Oscar Getz Museum of Whiskey History. Well, it's famous among folks who study American whiskey history, anyway. The museum is located in Spalding Hall, a beautiful old brick building, built in 1826, that was once part of St. Joseph College and Seminary and now houses this and another museum, an art gallery, and a quaint restaurant with both inside and patio dining.

Aside from its value as a starting off point for a tour of whiskey distilleries, we scheduled our trip to begin here because the museum happens to be open on Sunday, from 1:00 to 5:00 in the afternoon. Even with our long lunch (no one rushes your meal at the McKinney House – even when you're done.) we got to the museum a few minutes before 1:00 and walked around the beautifully landscaped grounds while we waited.

The Story of McKinney House
In 1779 Bardstown was divided Into 130 one and one half acre lots. The restaurant resides on lot #5 today. This particular lot was sold by Andrew Hynes, know as "A Parts Man of his time" to John 0. Owings. John Owings sold to Richard & Lucy Bibb on March l8, 1803.

Richard & Lucy Bibb sold to Andrew Hynes, thought to be the son of Andrew Hynes 'Parts Man' on March 10, 1809. The land was then sold on September 7, 1839 to Caroline Elder, a widow of Thomas Elder. Now leaving her to care for their children, Theresa Rose, John, William and Eleanore, Caroline's wishes to build this beautiful historic home came true.

For some unknown reason Caroline borrowed $605 against the home on August 12, 1843. Caroline passed away in the year 1846 leaving her children with this debt. They were not financially able to keep the home. The home went up on the auction block and was sold to Peter B. Muir who owned the home until 1887. The home has exchanged hands numerous times since 1887. The last family known to reside in this home was "The Leo Hagan Family".

In the upstairs front dining room you will notice engraved on one of the window panes are the names Jim McKinney and Katie McKinney 1886. This is why the restaurant is called "McKinney House".

With all the history, we still do not know and will probably never know if they were guests or relatives who etched their names in the glass leaving their mark forever in history.

... from the menu of the McKinney House Restaurant, Bardstown, Kentucky
One thing we found remarkable was how many of the design elements were things we have in our own landscaping at home. We saw several ha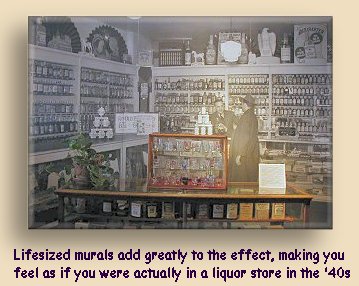 lf-whiskey-barrel planters just like the one Linda put together back home. And they contain begonias, dusty millers, impatiens, creeping ivy, and those long spiky things just like hers. They look so nice against the old, mossy brick; just the way ours does against the mossy terra-cotta tiles. And what's that? Why there's even a wrought iron and oak park bench next to it, just like we have. Well, I guess we could hardly be expected not to appreciate that sort of landscaping now, could we?

We had plenty of time to enjoy the outside of Spalding Hall, because 1:00 came and went without the doors being unlocked. So did 1:15. We began to notice that, just as at the restaurant, time in Bardstown is more of a guide than a dictator. When the museum keeper finally opened the door (and immediately disappeared to answer a phone), it was nearly 1:30. We went inside expecting to see a few showcases full of old whiskey bottles and some old papers. We weren't prepared for the scope of Oscar Getz's exhaustive collection.
We also weren't prepared for the honor of being able to chat with Mary Hite, the aforementioned museum keeper. Mary, a wonderfully friendly and enormously knowledgeable woman with dark hair and a cordless telephone apparently growing out of her ear, began giving us a personal tour (we were the only ones there, although several others did show up later on) until she saw that we had more than a casual interest in the subject. Then we really got a taste of what this museum is and what the history of whiskey-making in America is. Mary took us into normally locked rooms filled to the high ceilings with stacks of documents, newspapers, distillery records, distilling paraphernalia, and hundreds of whiskey bottles dating from only recently all the way back to the early 1800's. This was all stuff that is archived for use by serious students and historians but not displayed for the general public. She told us about the history of Oscar Getz's collection itself, how the museum came to be where it is now (it used to be his own private collection, which he took on tour to various cities around the country), and what they would like to do to increase and improve it in the future.

We never did ask Mary what her actual position with the museum is, but she certainly treated it as though it and everything in it were her own personal possessions. I've never seen anyone any more in love with what she's doing.

We talked about the current distilleries and how so many of these hundreds of different brands and labels continue to survive through the years, disappearing and re-surfacing again under different owners. The distilleries themselves seem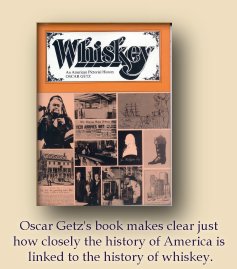 to be continually changing ownership. First, one distillery will begin buying up several labels, then it will start selling some off to another. Then the distilleries themselves are bought and sold by corporations, it seems as much for obtaining rights to one of their labels as for the current product itself. It reminded me of major league baseball teams trading players. Oscar Getz himself was part of this. The Getz family purchased the old Tom Moore Distillery in Bardstown in 1944, changing its name to The Barton Distillery (possibly because the Old Barton label already existed historically, although there are no examples to confirm this). Oscar then went on to become recognized as an important historian of American whiskey, writing and lecturing on the subject in the 1950s and '60s. After his death in 1983, his wife Emma gave his entire collection as a gift to the people of Bardstown.

Of course, no matter what corporation currently owns a given distillery, the people actually making the whiskey remain the same, and are nearly all descendants of the folks who made the whiskey from the beginning. Whiskey distilleries have always tended to be called whatever the brand name of the whiskey is (and they're usually identified that way on the label), so it's not often easy to know just what company actually owns the distillery. It was amazing listening to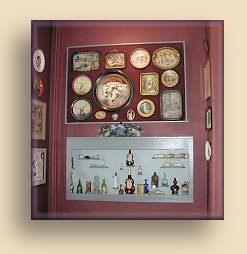 Mary run down the list of who sold what to whom, and how this or that brand used to be made here, but then they stopped, and then this other place started making it, and now it's being made at yet another place. I asked her if the whiskey being sold under all these historic labels without a current distillery of their own is really unique to the brand, or if it's actually just the same whiskey that distillery normally makes and the only thing different is the label. She said that is sometimes the case.

On later trips to the museum, and there have been many later trips to the museum we met Flaget Nally, who is the museum's effervescent curator (there's nothing at all "stuffy" about this museum) and Jo Beam, who also guides tours. And Michael Veach, the museum's historian.

We spent a lot more time in the Oscar Getz Museum of Whiskey History than we'd anticipated, and even then we could gladly have stayed for another hour (or two, or maybe a week). But we still needed to drive another 200 miles before we stop for the night. Before leaving, we bought a copy of Oscar's book, "Whiskey, an American Pictorial History", published in 1978. A lot has happened in the bourbon industry since then, but that doesn't much matter because the book is mainly concerned with older history. The history of American whiskey and the history of the United States itself is so intertwined that it's sometimes hard to tell just what kind of history book this really is. It's really fascinating to think about how dependent on each other these two institutions have always been.

Linda saw that they had souvenir shot glasses for sale and suggested we get one of those. I think this may be the beginning of yet another collection – every distillery offers souvenir shot glasses – hmmm, let's see now, each shot glass will require about three inches of shelf space, times ...

Story & original photography ©1998 by John F. Lipman. All rights reserved.