The George A. Dickel Distilling Company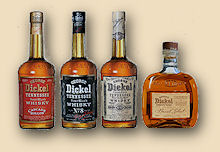 Cascade Hollow, Normandy, Tennessee
We spent last night at the Best Western Celebration Inn in Shelbyville, about a half hour from the George Dickel Distillery at Cascade Hollow. And we awake this morning nearly an hour later than we'd planned, upset that the motel has missed a requested wakeup call. Fortunately, before John gets a chance to embarrass himself by calling the front desk, Linda remembers that we are now in the Central Time Zone – an hour earlier than our watches!
Ten minutes later -- and right on schedule, of course -- the phone rings.
Today we are going to explore the entire (legal) Tennessee whiskey industry, which consists of only three distillers located less than twenty miles from one another (well, yes there is a fourth and fifth, Corsair and Collier & McKeel, in Nashville, but we visited those already on our way here). Our first stop is at the George A. Dickel distillery just outside the unincorporated village of Normandy, near Tullahoma. Only a couple days ago this area was being deluged with some of the heaviest rains they've ever had. Thunderstorms and winds (the same storm system that devastated parts of nearby states) took down trees and electric poles. But this morning is brilliantly sunny and dry. Getting to the distillery site involves traveling along several miles of lovely country back roads, set in the lush spring-green hills and valleys. As we approach the distillery, we are again struck by its setting, easily the most beautiful of any distillery we've ever visited. The road winds through a tiny valley, and set against the hillsides on both sides, the visitor center, the charcoal-making area, and, across the road, the distillery itself are clean and attractive.
The George Dickel distillery has had a fascinating history of moves and changes, and the current plant was built in 1958, although the ruins of the original, pre-prohibition site are only a couple hundred yards down the road.
The origins of commercial whiskey distilling in Tennessee go way back, and they are impressive, indeed. According to Henry C. Crowgey, in his book Kentucky Bourbon: The Early Years of Whiskey-Making, Evan Shelby operated the East Tennessee Distillery near what is now Bristol in Sullivan County as early as 1771. Kay Baker Gaston, in an article she published in the Journal of the Kentucky-Tennessee American Studies, quotes Herbert Asbury (The Great Illusion: An Informal History of Prohibition) as stating that the fourth National Census, taken in 1820, places Tennessee as having "... more capital invested" and employing "... more men in the production of spirits than any other states in the Union", other than New York, Pennsylvania, and Ohio.


You might notice that Kentucky placed behind Tennessee at that time.
So what happened?
Well, along with this healthy, successful distilling industry came an equally healthy and successful temperance and anti-saloon sentiment. In 1877 the state enacted laws prohibiting the sale of intoxicating beverages within four miles of a schoolhouse, in certain specific cases. Over the next couple decades those cases became progressively less restrictive until, by 1899 there was effectively no place in the state where whiskey could legally be sold. In 1910, long before the 18th Amendment brought National Prohibition, Tennessee had already amended its own constitution to prohibit the production, distribution, and even use of alcohol. Of course, just as would be the case nationwide a decade later, there was always plenty of alcohol available. Still, that pretty much destroyed the legitimate distilleries in Tennessee.
And for the most part, they never recovered.
One that did, of course, was Jack Daniel's distillery in Lynchburg.
Another was... well... actually there wasn't any other one -- just Jack Daniel's (Lem Motlow, proprietor)
That distillery brags that it is the oldest distillery in America, because it is listed as No. 1, but that's only because they were the first (and only at the time) distillery in Tennessee to re-apply for a license after Repeal. So they are the oldest distillery in Tennessee, but even then only if you start counting at 1934. That said, Jack Daniel's was indeed the only Tennessee distillery for nearly 25 years, and that was, after all, when they began making the claim.
In the 1950s, the Motlow family, which owned Jack Daniel's, began entertaining offers to buy them out. They had several suitors, but the two main ones were the family-owned Brown-Forman company in Louisville, and the Schenley company. Brown-Forman won, and they purchased Jack Daniel's in 1955.
The great Schenley company was dumbfounded. How could this be?
Some little jerkwater outfit in Louisville got this deal? No way!

But the answer was, indeed, "WAY".

The makers of Old Forester and Early Times, and, well, I guess that's all, had managed to pull off the deal of the century and Schenley was left with a rejection letter and a "thank you". They quickly decided that, if they couldn't have Jack Daniel's, then they'd build a distillery to wipe them out.
It didn't happen, of course, but what they did accomplish was to build a very capable alternative, and one which many people find to be even superior in quality.
At this point, it's probably a good idea to bring up a little bit about this particular distillery's history. First of all, it never was the George A. Dickel Distillery until very recently. And, despite the lovely, but largely fictional, story that its current owners, the Diageo conglomerate, offers (and in all fairness, so did its previous owners, and the ones before them, and so on), George (and his wife Augusta) Dickel never made a drop of whiskey in his life.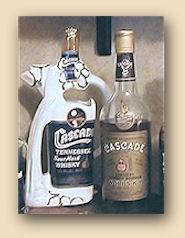 Dickel was a Nashville merchant who, like many merchants, sold clothing, shoes, housewares, groceries, and liquor. Merchants who sold their own brand of spirits usually obtained them from whatever vendors they pleased. Dickel was probably no exception, other than that he eventually narrowed his vendor list down to just the Cascade Hollow distillery near Normandy. That distillery was owned by Matthew Sims and McLin Davis, who was the distiller there. The Cascade Distillery itself was never owned by the George A. Dickel Company, but its whisky was sold as George A. Dickel's Cascade Whisky. In 1888, Matthew Sims sold his share to Victor Shwab, who was George Dickel's partner, and ten years later Sims' heirs sold him the remaining interest, which gave Victor Shwab complete ownership of the distillery. Shwab was more than just George Dickel's partner, he was also his brother-in-law. George Dickel died in 1894, leaving his interest in George A. Dickel & Company to his widow, Victor's sister-in-law (Augusta, the "A" in "George A. Dickel", was George's wife as well as it's chief financier; her sister was Emma, married to Shwab).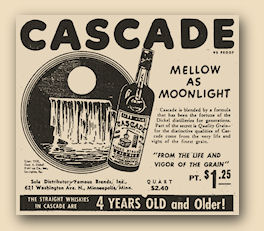 And when she died in 1916, the entire company, including the distillery, became the realm of her brother, Victor Shwab. The George A. Dickel's Cascade Whisky brand was already very well-known, and Victor did not change the name; otherwise this fine product might have been known as Shwab's Cascade Whisky.
Well, no matter what you call it, after 1911 what you'd call it was... closed. National Prohibition was still ten years to come, but Tennessee had already outlawed the production and sale of alcohol beverages. The distillery was closed, but the company itself moved to Kentucky, where they continued producing whiskey in rented facilities at the Stitzel distillery in Louisville until after the Prohibition Amendment was repealed. In the early 1940's they moved to the George T. Stagg distillery in Frankfort, Kentucky, which was operated by Schenley. Schenley had already purchased the Cascade brand, and was using that as a price leader (i.e., cheap bourbon) brand.
And that brings us back to the mid-50s and Brown-Forman's purchase of Jack Daniel's.
Schenley already owned the Cascade brand. They had bought that, along with the rest of the company, from the Shwab family in 1937. But they had been using that brand to market low-priced, base-quality bourbon whiskey, mostly made at their Indiana distillery. Very shortly after Brown-Forman got the Jack Daniel's deal, Schenley assigned distiller Ralph Dupps the awesome task of reviving a distillery and brand that no longer existed, other than on paper.
Dupps, who was working at the Bernheim Distillery in Louisville, making I. W. Harper bourbon, was already very familiar with Cascade whisky, and he was a major fan. His reaction to that assignment was basically "Hoo-hah! Lets' git 'er done", and he proceeded to do exactly that.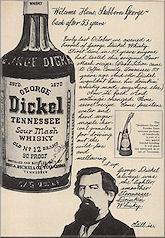 First, he located the site of the original Cascade Hollow Distillery. Unfortunately, it would not be possible to rebuild what was once there. So he purchased the adjacent property, which accessed the same water source, Cascade Spring, and began construction of a modern facility that he felt would be capable of producing the finest Tennessee-style whiskey ever made. That was in 1958. He had a few things going for him. One of those, of course, was the water. That really does make a difference. Another was the supposedly-original Shwab recipe (it would really have been McLin's recipe, but that's just the way whisky folks are) . It's competitor over in Lynchburg claims continuity back to Jack Daniel's original recipe, but there's no evidence of that. In fact, some would say Jack Daniel's is not very far from Old Forester in its flavor, with the addition of the smoky maple leaching process. It certainly does not taste much like George Dickel whisky.
Did he succeed? Well, for most people who have compared it with the whiskey it was intended to compete against, yes. The whisky (it is called "George Dickel" now, because the Cascade brand is still owned by Schenley's successor, Buffalo Trace) is quite different from it's other Tennessee whiskey competitor, and in fact, has a flavor much more reminiscent of pre-prohibition whiskies than most other current American whiskies.
The legend, and much of the officially-dispersed history, of this whiskey is almost completely a product of marketing professionals. At first it was Schenley, certainly no strangers to creating legends and history from scratch. Schenley then sold their company to Diageo who, while they treat their brands with a bit more integrity than Schenley did, little of that has appeared in the current tales being published about George Dickel. But when you visit this distillery, please don't embarrass your tour guide by asking about the Shwabs (they never mention the Shwabs), or question their contention that Georgie and his lovely wife Augusta came here and said, "yes, darling, this is where we shall build our distillery" (there is no evidence that George Dickel ever set foot in Normandy, Tullahoma, nor anywhere near Cascade Hollow)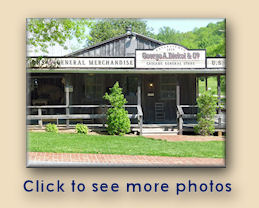 This isn't meant to be an exposé. Readers of these web pages should understand that a big part of American spirits' appeal (as well as that of everyone else's spirits) is the romance and legendary tales that surround the various expressions. It doesn't really matter that some (or all) of those legends are bogus. It's what distinguishes distilled spirits from milk or Coca-Cola (well, Coke® has its own "created" legends; and good for it). What a visitor to the George Dickel Distillery needs to know is that you will be shown through a lovely distillery plant, in probably the most beautiful setting you will ever see, and that the whiskey that is produced here -- and every drop in all the world is, indeed, produced right here, by the very people you will be meeting on your tour -- is among the finest examples, Tennessee or otherwise, that America has to offer.
On the other hand, if you'd enjoy reading some articles that present, in astounding detail,

some of the mythology surrounding the George A. Dickel company and the Cascade brand and distillery, our colleague Charles Cowdery has written and published a half-dozen well-researched blog articles on his personal blog. Chuck is a major contributor to the general American spirits knowledge, and these articles about the Dickel organization are part of his broader commentary about the role of mythology -- especially manufactured mythology -- in the marketing of American whiskey (and presumably whisky in other countries as well).

That's his smiling likeness you see on the left; click it and it will take you to a page with links to his Dickel articles.
In 1987, Schenley sold the Dickel brand and the distillery to Guiness, who, in that same year, became part of a merger that produced United Distillers. Then, ten years later, United Distillers merged with Grand Metropolitan to create a brand new super-conglomerate, Diageo, which is now the world's largest producer of distilled spirits.

Among those spirits is George Dickel, American Tennessee whiskey.
And what does ownership by a giant multi-national corporation do for (or against) a fine Tennessee product?
Not much, really. Ralph Dupps, who died in 2007, is (or should be) credited with creating the modern George Dickel Cascade Whisky. His protégé, Bill Bruno, continued as master distiller through the changes that President Reagan's de-regulation brought about, and is pretty much uniquely responsible for the the product we know today as George Dickel Tennessee Whisky. And distiller Dave Backus further continued the tradition until the mid-2000's when he was replaced by the current master distiller, John Lunn . And of course, as is typical of corporations in general, and especially those in the alcohol beverage industry, the existence of neither Bruno nor Backus is acknowledged in any of the company's publicity, including its official history.

Has the whiskey changed much during that time? Yup. So has everyone else's. It's still mighty good whisky, though.
So, about the tour itself...
We begin at the general store, which leads to the visitor center, a big, rustic wood, lodge-like room with an enormous fireplace and couches, displays of Cascade Distillery's past and present, and even a little kitchenette-looking area that might someday become a tasting bar -- if Tennessee ever grants a license to offer samples. In another part of the room is the obligatory flat-screen TV and DVD player for showing the (well, at least "a") history of George Dickel. There are also several displays of distillery models and Dickel products.
It is from here that the visitor tours start, and this is where we meet our tour guide, Gina Mathias. Besides ourselves, there is only one other couple on this tour, so it's almost a private tour.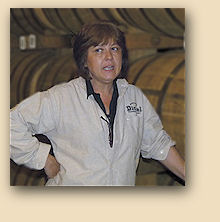 Gina spends as long as necessary at each stop, and she is happy to answer as many questions as we have to ask. We couldn't imagine a more personable and knowledgeable guide.
The first stop is just outside the visitor center, where the maple boards are stacked and burned to produce charcoal. The process that separates Tennessee whiskey from normal bourbon -- in fact, it defines Tennessee whiskey for most people -- is the "mellowing" that is accomplished by slowly trickling the newly-distilled whiskey (or "whisky" in this case; George Dickel insisted on leaving out the "e" because that's the way the Scots spell it) through several feet of maple charcoal before putting it into the barrels. That charcoal is produced right here, and Gina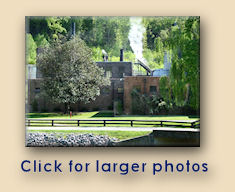 shows us a stack of sugar-maple boards ready to be burned. The burning is done as needed, and plenty of charcoal is produced each time, so it isn't done all that often. It must be truly spectacular if you're lucky enough to be here at that time. The burning wood will, of course, be doused before it turns to ash, and the resultant charcoal is then broken into small (about half-inch) pieces before being used for the mellowing process.
Inside the distillery proper, Gina shows us the mills that grind the corn, rye, and barley malt, and the cookers and fermenters where that cereal is turned into whiskey mash. There are nine fermenters altogether, each of which holds around 20,000 gallons of grain and water. Most bourbon distilleries we have visited use #2 yellow corn, some local, some from other areas. Basically it's cattle-feed, but that's good enough for making whiskey. At Dickel they use locally-grown #1 Tennessee yellow corn, which they compare to sweet corn. Most of the people we know, including ourselves, notice a distinctive taste that is unique to George Dickel whiskey; perhaps it is this choice of their main ingredient? At any rate, they use 74% of that corn, along with 8% each of rye and malted barley, in their recipe. They use dry yeast to ferment the grains, and they dose the mash with the yeast from the top. Distillation is done in a gleaming all-copper column still, then the whisky is re-distilled in a stainless steel pot still, known as a doubler, before being transferred to the "mellowing" phase. Here, it is chilled to about 45 degrees and then allowed to dribble slowly (about a gallon/minute) through a column of the maple charcoal pieces we spoke of above. According to the Cascade literature, it is this chilled filtration that gives Dickel its distinctive flavor.
Gina takes us to see all the places the tour normally covers, of course, but she is able (and happy) to spend a lot more time with us at each stop. She points out details that shows us clearly how each process is done, and also shows how much she is aware of the way the distillery works –

not just what the tour guides are trained to know (you might want to remember that when we get to Jack Daniel later on today).
Photography inside the production facilities is not allowed (although there are some really good pictures to be found posted on other websites - check out Flickr). Gina explains that this exasperating "rule" is due to government regulations meant to ensure our safety, not because they don't want their competitors to see. No cell phones are allowed either. That's another "safety" restriction which appears to have become necessary only now that many cell phones include cameras. Apparently the fumes in other distilleries are less explosive, since no one else seems to have such restrictions... except at Jack Daniel's. Okay, so maybe it's not federal restrictions; maybe it's the state of Tennessee that forbids photography in production areas. Except that when we visit with Phil Pritchard at his distillery in Kelso later today, we will find he has no such restrictions at all;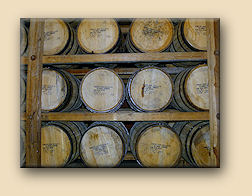 nor did either of the distillers we met yesterday at Corsair and Tennessee Distilling (Collier & McKeel) in Nashville.
Gina then gives us a demonstration of how the barrel plays an important role in the production of whiskey, and she shows us a mock-up of their barrel warehouse, although the real warehouses are located back in the hills, too far to walk to. George Dickel whisky is aged for five to seven years on-site, at several 6-story warehouses located in the hills behind the distillery, but after that, the whisky is dumped from the barrels to a tanker and shipped to their bottling facility in Maryland.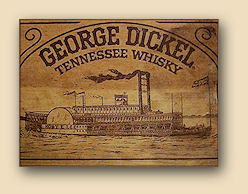 After the tour we return to the general store. The last time we were here, twelve years ago, we bought some souvenirs, including a bottle of 10-year old Special Reserve. At that time, they couldn't sell anything that would have been available at normal retail outlets, only specialty bottlings. Since then, the laws have changed, virtually flip-flopping, and they're no less strange. Now they CAN'T sell you anything that's not available to the general public, only products offered through normal distribution channels. Go figure!
Some people who are familiar with things offered on eBay and yard sales might recall the familiar powderhorn-shaped bottles. The Dickel company obtained special legal permission (T.C.A. §57-3-204) to allow them a retail liquor license, restricted to selling only special souvenir bottlings of their product. By the time of our visit, nearly fifty years later, that description has been extended to include the Barrel Select (which is not really a souvenir but usually pretty scarce in normal retail stores) but no other Dickel whiskies. There are, of course, lots of other George Dickel souvenir products available.